Día de los Muertos in Mexico
In Mexico, they do not celebrate Halloween as it is. However, Mexicans have an ancient tradition of their own and a holiday they observe in honor of their deceased loved ones.
The holiday is observed from October 31 to November 2 annually and is known as Día de los Muertos, or Day of the Dead.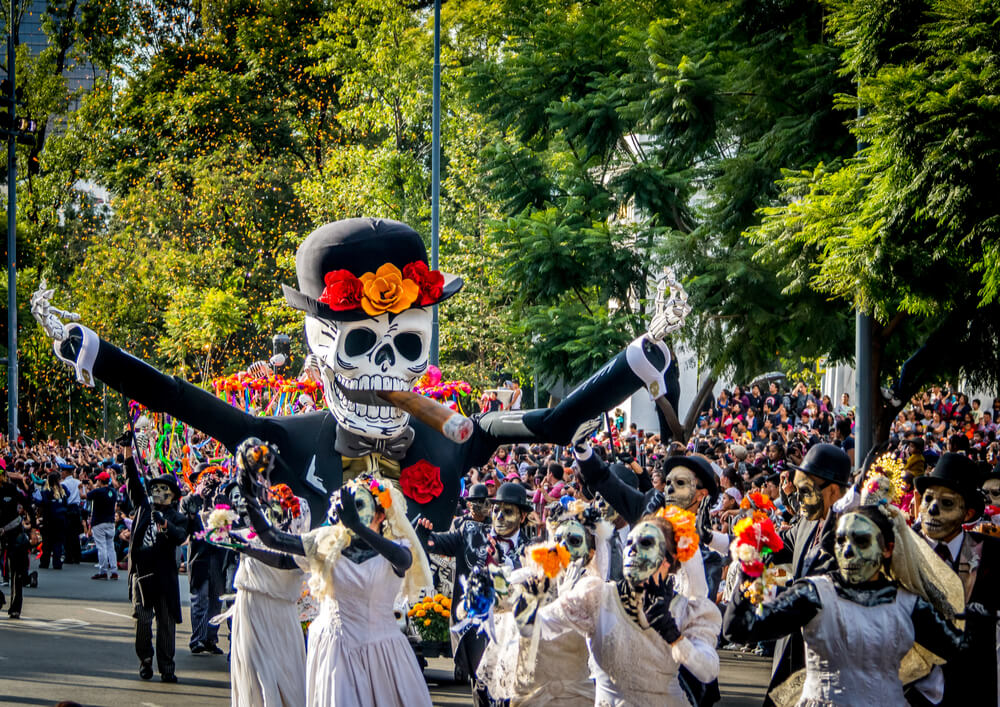 Although it can roughly be seen as an alternative to All Souls' and All Saints' Day, indigenous people combined ancient beliefs and traditions with Catholic ones and formed a very peculiar holiday. Let's delve into the history and traditions of the fascinating Day of the Dead as it is celebrated in Mexico.
Mexicans believe that October 31 is the day when the gates of heaven open at midnight and the spirits of their angelitos (deceased children) are let out to reunite with their families for a whole day. And November 2 is the day (and night) when spirits of deceased adults can leave heaven to enjoy the festivities their families have prepared for them.
In villages, beautiful ofrendas (altars) are made in each home and decorated with candles, images of saints, buckets of flowers, fruit and cooked foods. The most important of flowers are cempasuchil (wild marigold) and cock's comb. Traditional Mexican foods for the altar include turkey mole, high tortilla stacks and pan de muerto (a big Day-of-the-Dead bread). One can also purchase stalks of sugar cane and make an arch over the ofrenda to represent the archway to heaven.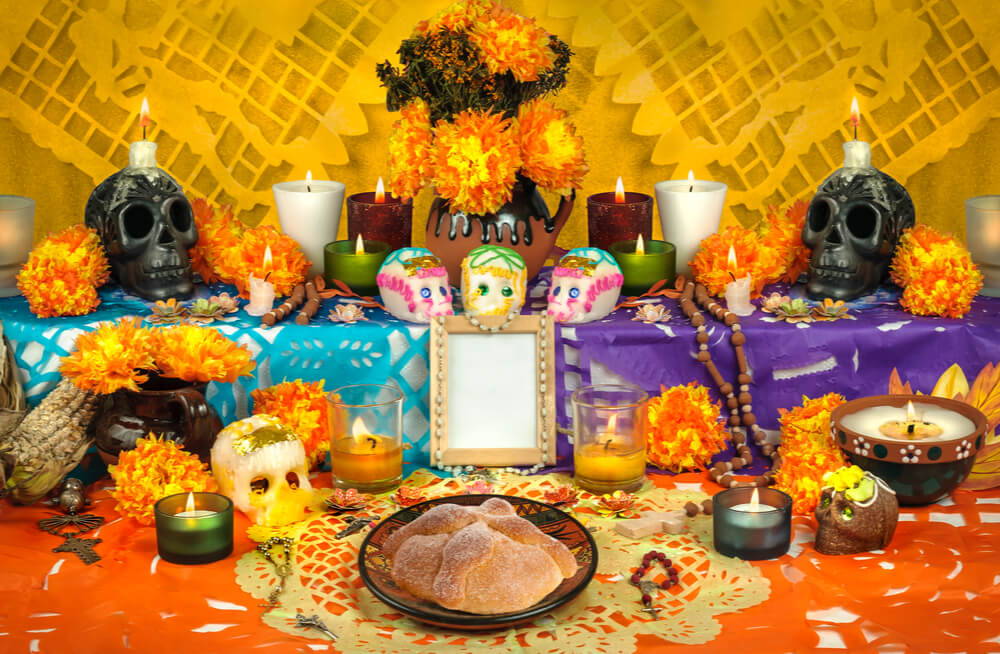 Dia de los Muertos is a very expensive holiday, as altars need to have lots of food and hot cocoa to support the weary spirits. The treats are adjusted depending on the date: on October 31 people leave toys and candy, including sugar skulls and coffins, for returning angelitos, and on November 2 one can see cigarettes and shot of mezcal (distilled alcoholic drink made from agave) offered to adult spirits. People want to welcome the spirits of their deceased loved ones in the best way possible because they want to show their respect and make the spirits happy to win their protection, good luck and wisdom for their families.
Another traditional Day-of-the-Dead food is zacahuíl (gigantic tamal wrapped in banana leaves). The construction is extremely hard, especially when it comes to wrapping – you don't want the zacahuíl to fall apart, but it usually yields enough tamal to serve over 100 people on the Day of the Dead. The zacahuíl is baked in an outdoor adobe oven and then sealed with mud until the festivities.
On the afternoon of November 2 families attend cemeteries. In the south of Mexico, festivities are taken there with music, drinks and parties. In the northern regions of Mexico the holiday is observed in a more European way, with masses, cleaning of graves and tombs, and no loud festivities. But anyway, observation of the Day of the Dead brings families and whole villages close.
☠️ The Sugar Skull Tradition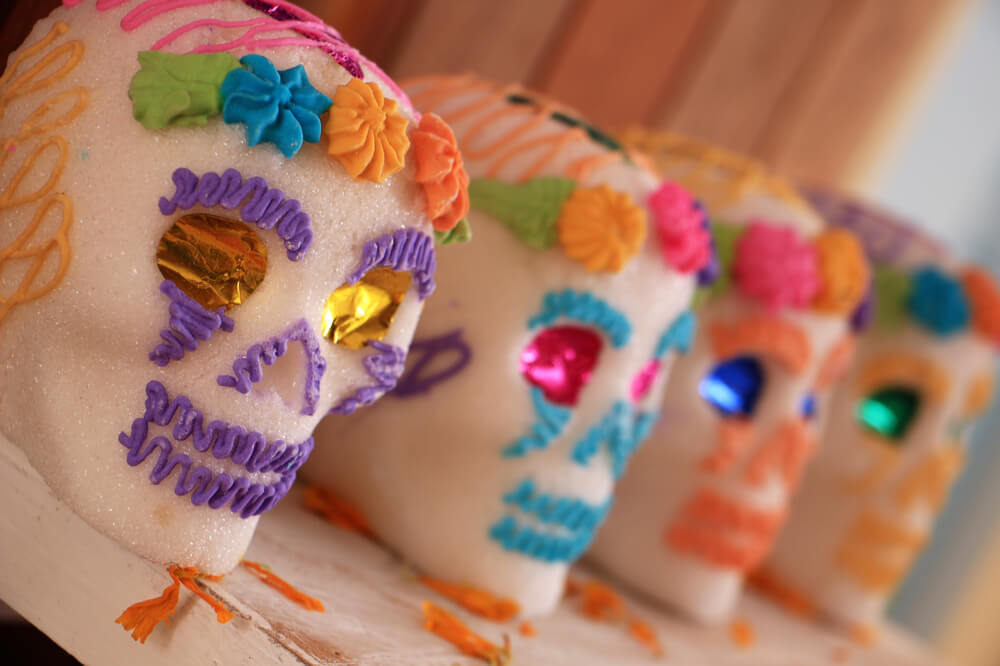 Mexican sugar art dates back to the 17th century, when it was brought to the New World by Italian missionaries. It was first associated with Easter time, when tiny sugar lambs and angels were made as altar decorations for Catholic churches.
Mexico was too poor to purchase sugar adornments imported from Europe but had a thriving sugar production industry, so Mexicans learned from friars how to make sugar art. In fact, they already had their own clay molds of angels and sheep in the 18th century and added a purely Mexican one – the skull – to them. With a name written on their foreheads, sugar skulls symbolized a departed soul of a particular deceased person and were placed on the home ofrenda or a tombstone to honor the return of the person's spirit. Sugar skulls usually have big smiles, colorful glittery and icing adornments. The production of sugar skulls is a time-consuming and intricate process, so they were only made in small batches in the homes of professional sugar skull makers. Sadly enough, these beautiful artisan skulls are disappearing now, as mass-produced and imported skulls are taking their place.
Sugar skulls range in size from really tiny to enormous, made from 50-year-old molds. One can find various designs at special Sugar Skull Fairs. Candy makers start molding and decorating sugar skulls up to 6 months in advance to produce enough merchandise for the fair. Moreover, there is a competition in Metepec, Mexico where sugar skull makers show off the artisan skills they have perfected for generations!
Sometimes sugar skulls are eaten, but their main function is to decorate ofrendas and be a sweet treat for visiting angelitos and adult spirits (small skulls are prepared for the deceased children and full-size skulls are made for returning spirits of adults).
💀 La Calavera Catrina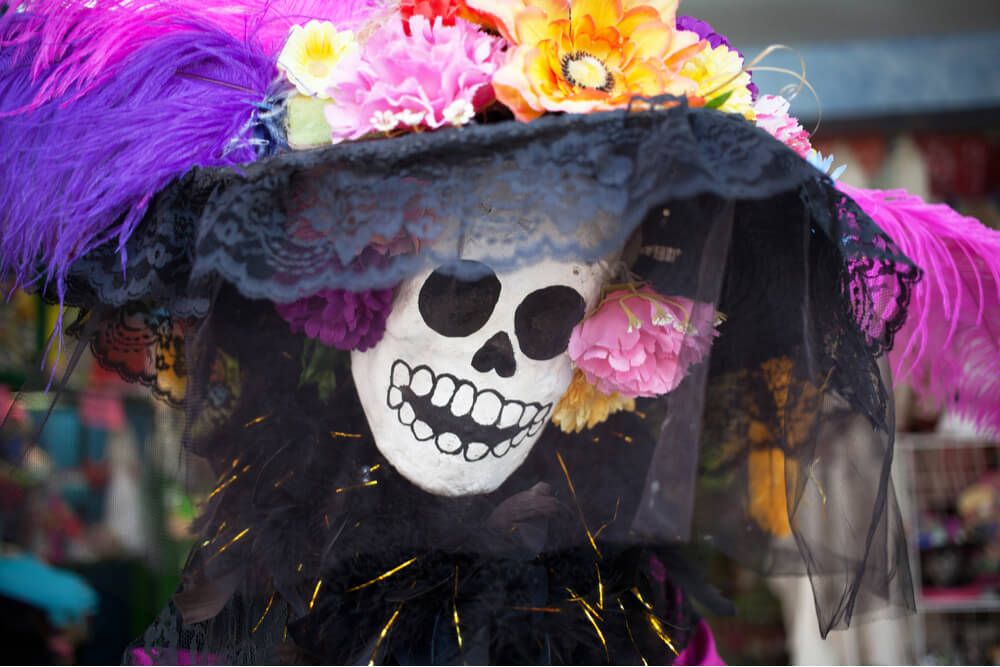 Another skull-related tradition of the Day of the Dead is Catrina-inspired makeup and decorations. Also known as Dapper Skeleton or Elegant Skull, La Calavera Catrina (Catrina's Head) was introduced by famous Mexican printmaker and illustrator José Guadalupe Posada with his 1910s zinc etching that depicts a female skeleton dressed in a hat. However, the popularity of La Calavera Catrina and her name derive from Diego Rivera's 1948 work Sueno de una tarde dominical en la Alameda Central (Dream of a Sunday afternoon along Central Alameda). Posada's etching was intended as a collective satirical portrait of garbanceras - Mexican natives, who were ashamed of their origins and heritage and aspired to adopt European aristocratic traditions – they imitated the French style of clothing while wearing heavy make-up which made their faces whiter. La Calavera Catrina was intended to rescue the Mexican folklore and this is why it is used as one of the chief Day-of-the-Dead images. La Catrina is an image of Death, a motive of popular handicraft. Her representations may vary, but one thing always remains unchanged, and it is Catrina's hat.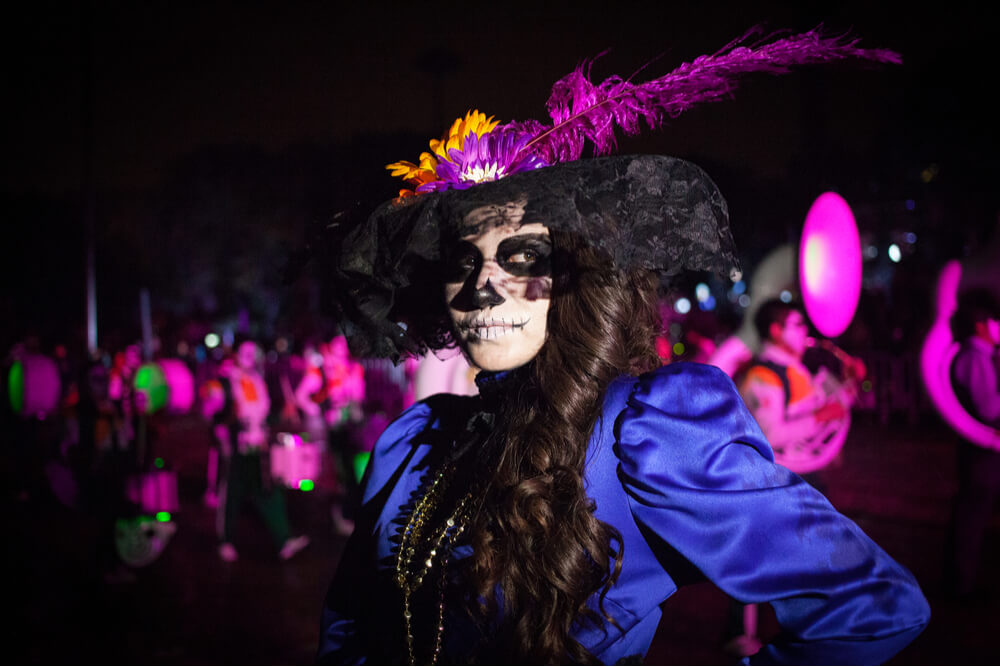 Discover more spooky trivia from the Spanish-speaking world:
And now, a Spanish true-false word game!
Give your answers and see if you are right!
START QUIZ