Cuban Cookbook: Authentic Dishes to Try
Let's find out which must-try dishes will give you the best Cuban food experience!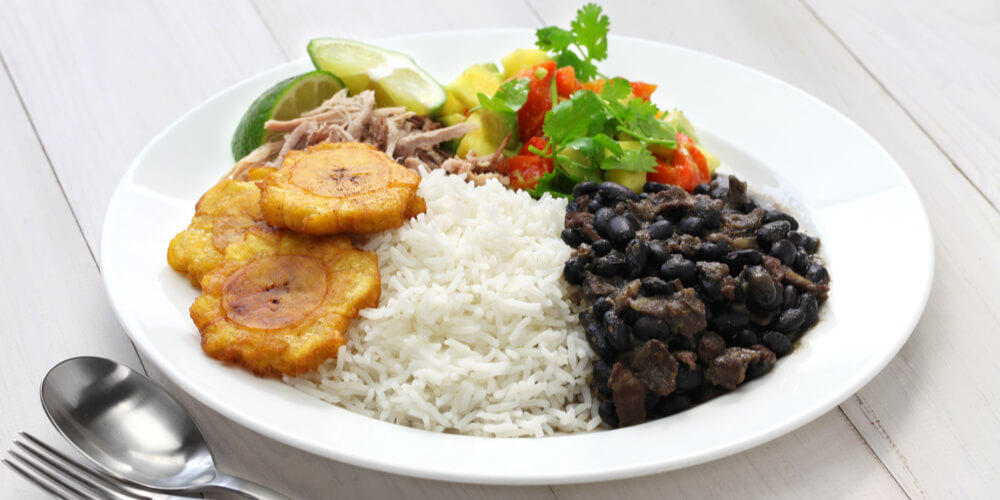 While Cuba may not be a gastronomic capital of the world, it is the place where you can enjoy a number of simple authentic dishes. Most of them were invented as a result of a cultural blend: throughout history, Cuba was mightily influences by versatile cultures. Let's find out which must-try dishes will give you the best Cuban food experience!
🍲 Comida Criolla
Cuban food is often called la comida criolla. This is a special term that describes the style and contents of a typical Cuban meal: it always has some chicken, pork, fish or other seafood (beef is very rare), a fresh salad, plantain fritters all served with a side of beans and rice.
🍲 Cuban Cuisine
Now, let's learn the names and ingredients of the most popular Cuban dishes.
Ajiaco is a stew cooked with assorted vegetables (pumpkin, plantain, potatoes, malanga, corn, etc.) plus meat, lemon juice, tomato paste, and spices. There are many additional ingredients you can find in your ajiaco, depending on the availability and the cook's preferences.
Arroz Amarillo con Pollo is very similar to Spanish paella, only cooked with yellow rice (as the name suggests) and chicken, not seafood. The serving you'll get at the restaurant is usually huge!
Costillitas is a BBQ dish made from baby back ribs. Marinated in orange and lime juices mixed with olive oil and typical Cuban spices garlic and oregano, the ribs are sweet, tangy, and delicious.
Chicharrones is a crispy fried snack made from pork rinds.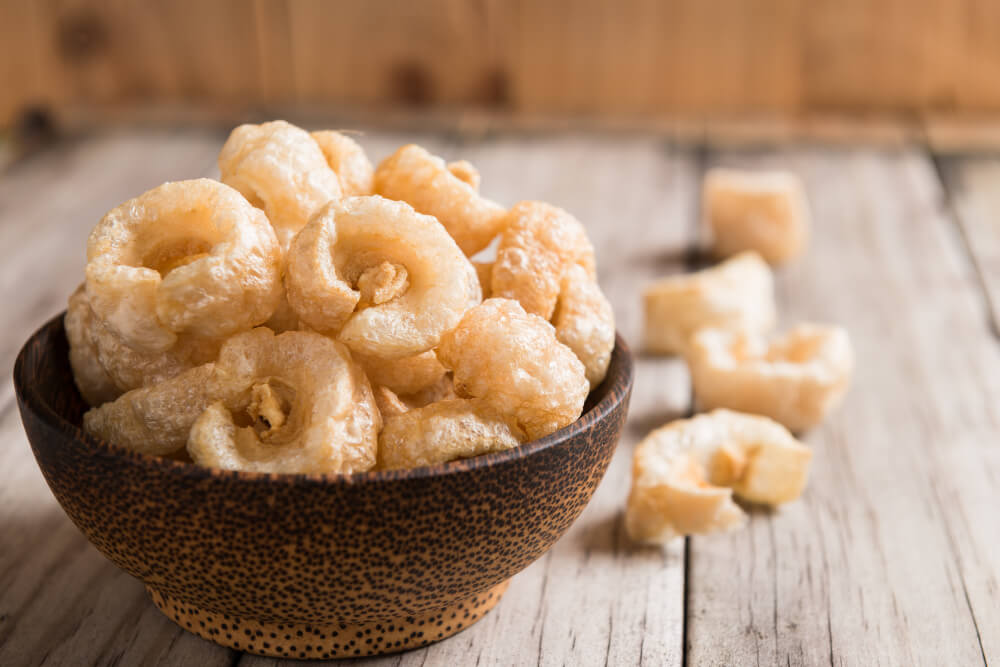 Churros is a very popular street food. You can find it in many Spanish-speaking countries, and Cuba is no exception. Deep fried sweet dough sprinkled with icing sugar.
Frita is the name for the Cuban hamburger. The burger itself is made from beef and chorizo, then topped with French fries, and sandwiched in a soft bun.
Cuba is also known for its lobster. The sea critter itself is not as big, as it is a different variety, but it is delicious and the servings are very generous!
Plátanos Maduros or simply Maduros are another Cuban staple often called by tourists "those sweet black bananas". This is a fried dish made from ripe plantains: chunks of the fruit are fried till caramelized.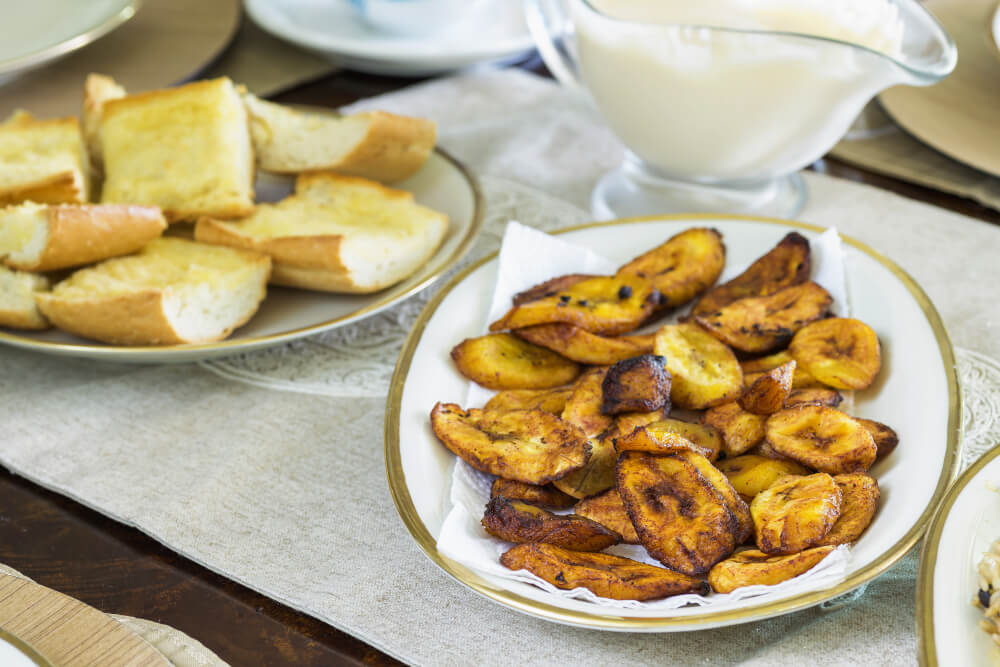 Mariquitas are little crisps made from plantain. If you've tried banana chips, you can imagine their flavor, only mariquitas are not that sweet.
Malanga chips are very similar to mariquitas, only made from malanga – a tuberous plant very similar to Jerusalem artichokes.
Medianoche is a popular Cuban sandwich with a beautiful name (medianoche means "midnight") it owes to the night clubs it is usually served in. The ingredients are pork, ham, pickles, and cheese sandwiched between two slices of sweet egg bread.
The most famous Cuban dessert is, probably, the milk flan. As the names suggests, it is made from milk, sugar, and eggs, then topped with caramel which usually appears in the ramekin where the flan was cooked.
Known as Moros y Cristianos, this side dish is not just very popular, it is impossible not to try in Cuba! This is the garlicky black beans and rice dish that is usually included into the comida criolla. The name of the dish dates back to the 15th-century Islamic invasion of Spain: Moros are the black beans symbolizing the dark-skinned Moors and Cristianos are the white rice – the light-skinned Christian Spaniards. Rice and beans are usually cooked separately, but when they are cooked together, the dish is usually referred to as Congrí. Sometimes Moros y Cristianos are used as a stuffing or another popular Cuban dish - Pernil Relleno de Moros y Cristianos (oven-cooked marinated pork shoulder stuffed with rice and beans).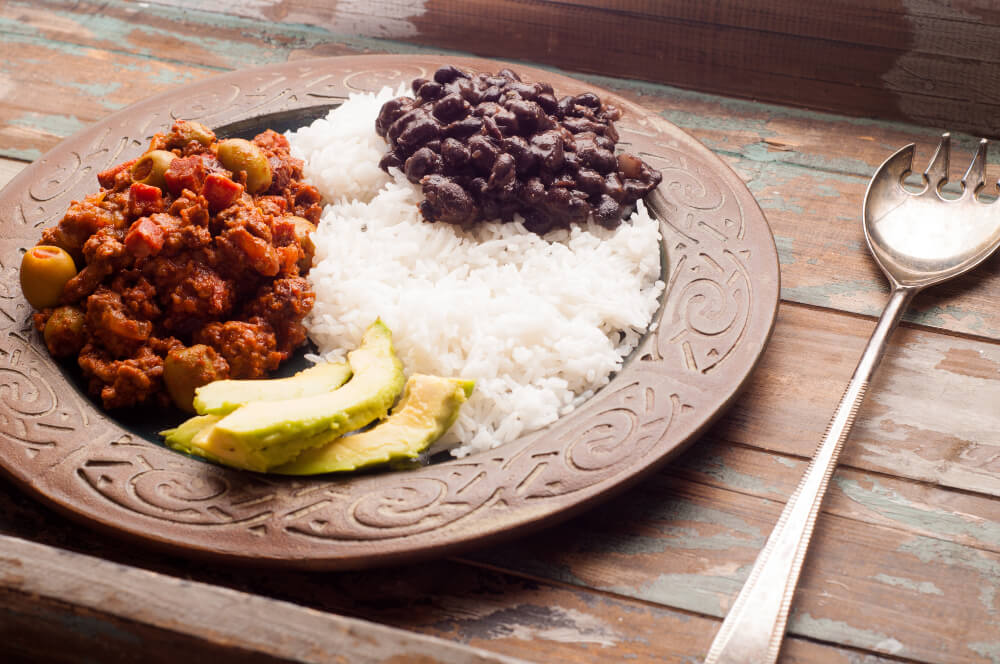 You may be surprised, but pizza is a very popular dish in Cuba. However, it is not too easy to find a really good one.
Pulpeta is the Cuban meatloaf stuffed with hardboiled eggs and ham. The main difference from the meatloaf we know is that it is cooked on the stove top.
Beef is not common in Cuba, but ropa vieja is one of the most famous Cuban staples with a funny name: ropa vieja is translated to English as "old clothes". Beef is thinly shredded, then simmered for hours in a sauce made with tomatoes, onions, and peppers until the meat is very tender and flaky.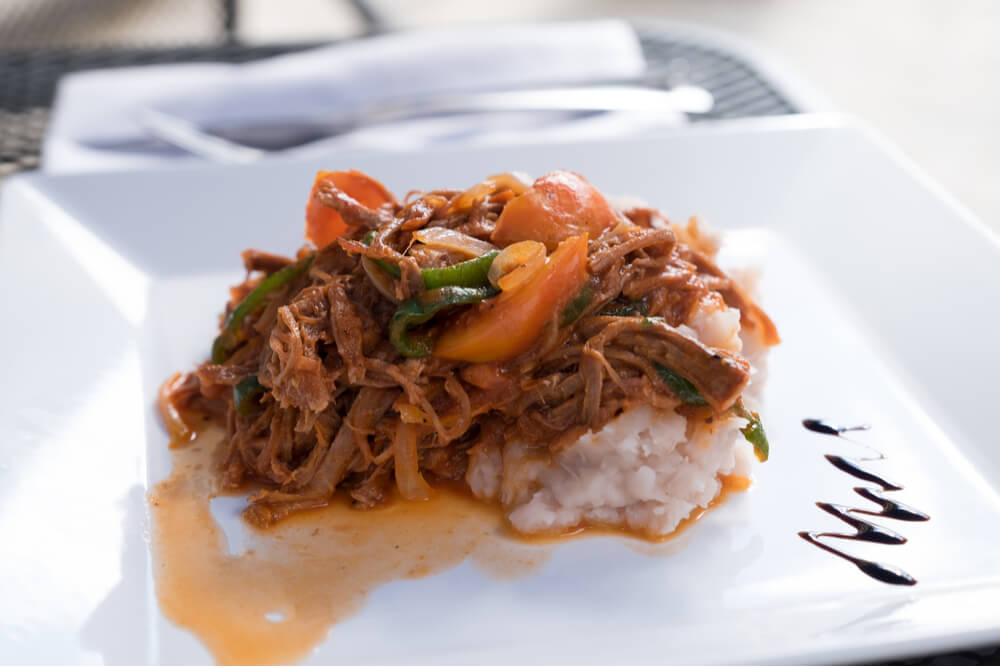 Served in the corn husk, tamales are native to Mexico, but in Cuba, they are also popular. The difference between the Cuban and the Mexican recipe is that in Cuban tamales, dough is mixed WITH the meat, not stuffed with it. Tamales can also be cooked and served in a pot, in which case the dish is called tamal en cazuela.
Plantain fritters called tostones constitute another part of the Cuban comida criolla. Plantains are thickly sliced, then fried, pressed to make little cakes, and then deep fried.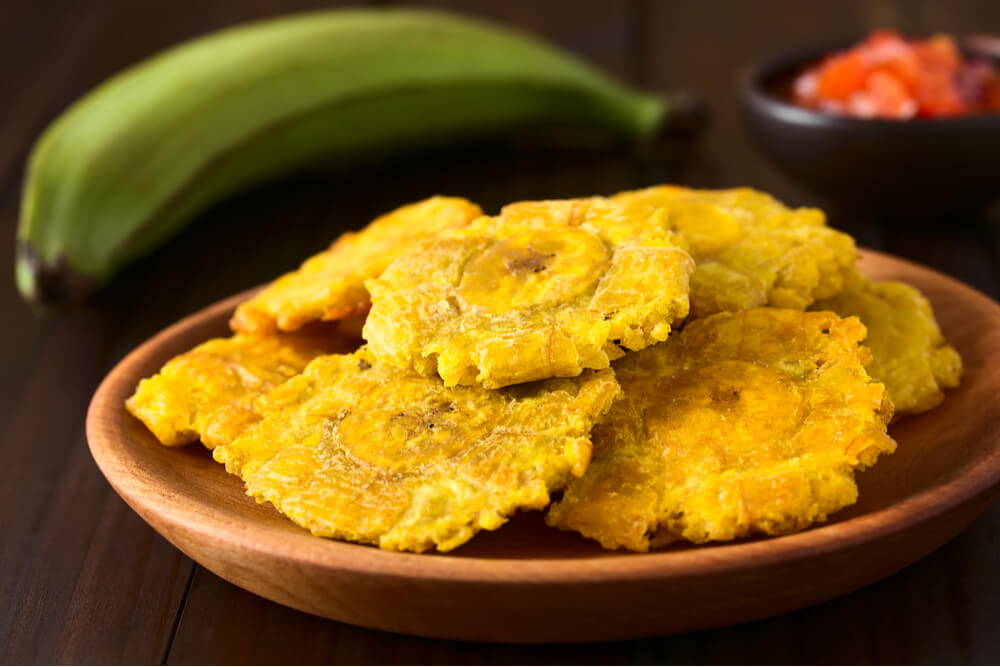 Vaca Frita is not just "fried cow", as its name suggests. Beef is marinated in lime juice, garlic, and salt, then fried till crispy.
Yuca Frita is a side dish of fried cassava root chunks.
Which of the Cuban dishes would you like to try?
And now, a Spanish vocab game!
Let's see how the names of Cuban foods will help you guess the meanings of Spanish words!
START QUIZ