10 Spanish Tapas to Beat Fall Weather Blues
Find out which tapas – little bites of food – are popular in Spain on the verge of winter!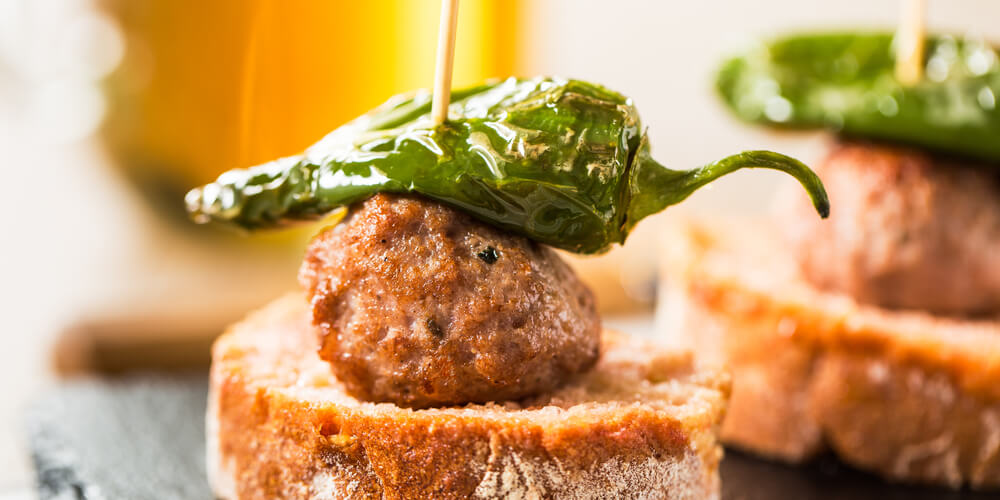 Days are getting chillier and duller, and we are craving comfort food in hopes that it will help us beat the cold weather blues. Let's try and do it the Spanish way – with the help of hot tapas! Find out which snacks are most popular in Spain on the verge of winter!
🧆 Albóndigas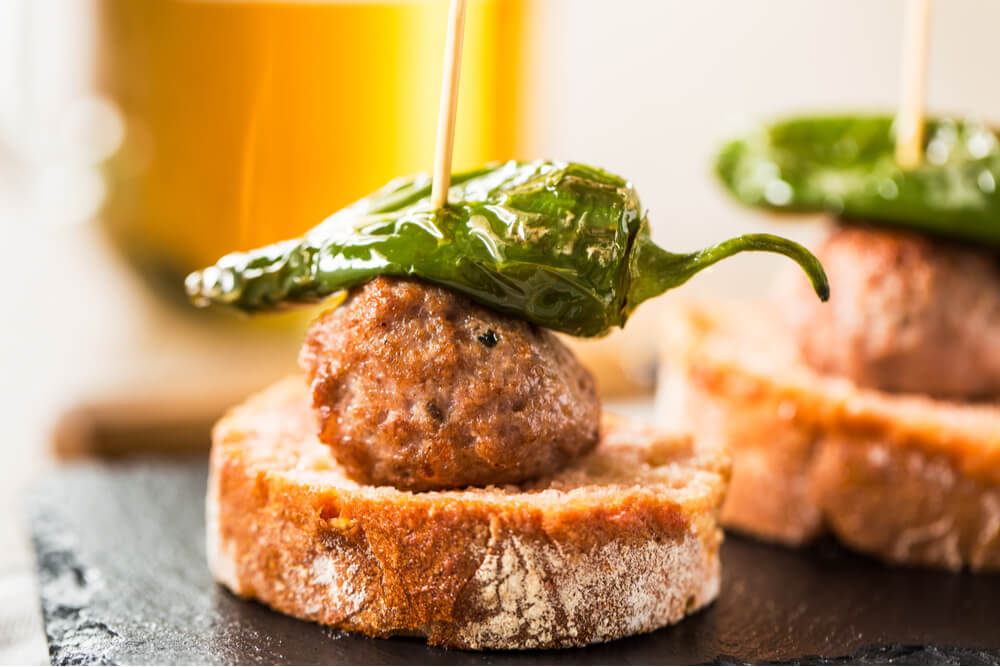 Many countries have their own variations of meatballs, and Spain is no exception. Albóndigas are cooked in a delicious sauce; each cook has a special sauce recipe he/she prefers for the meatballs. One of the most popular choices is salsa de almendras (almond sauce) – very flavorful and unusual! As a tapa, albóndigas are served individually or in twos, with a side of a pico (small cracker).
🐟 Buñuelos de bacalao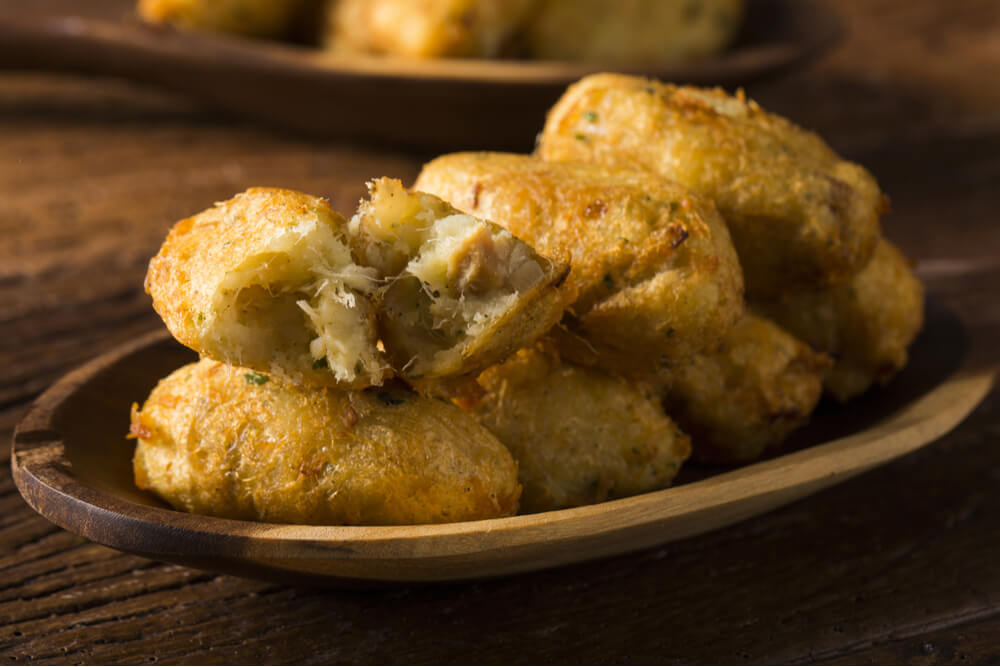 Salt bacalao (cod) is saturated with salt – a very peculiar way to enjoy fish when there is a sea nearby. Still, salt cod is a very frequent ingredient in Spanish cuisine, thanks to its rich flavor. It is even used to make buñuelos (fritters), which taste especially great in chilly weather! Buñuelos de bacalao are served with alioli, or simply garlic mayo, which is a Spanish trademark dipping sauce and works fine when there is a need to counterbalance the salty flavor of bacalao.
🥣 Callos a la Madrileña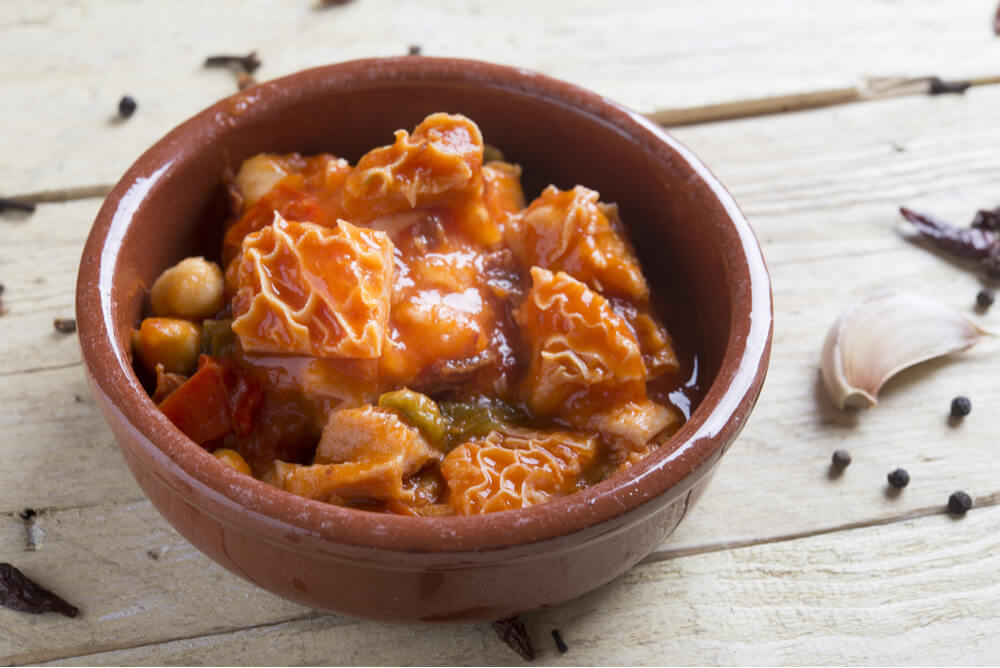 Honestly, I have not tried this tapa. I am not especially eager to do so either, for callos if the Spanish for "tripe." A la Madrileña is less worrying – it points at the cooking style: "like they do in Madrid." However, those who tasted the debatable stew say that the delectable spicy sauce and the soft chickpeas make this tapa worth being given a go!
🍄 Champiñones rellenos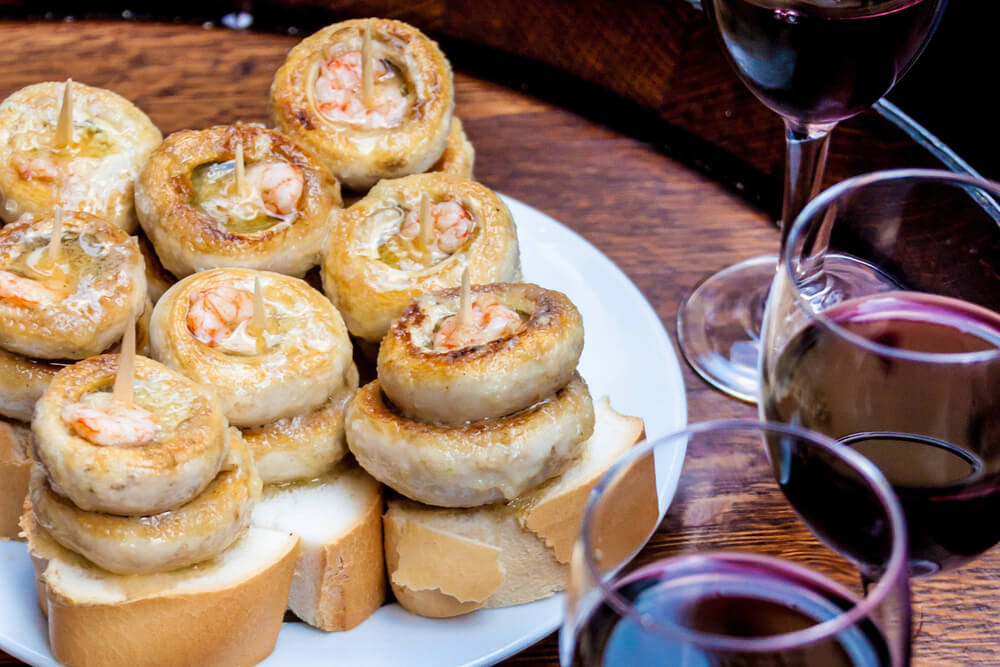 If you happen to visit Spain in colder weather, do try stuffed mushrooms. The Spanish call them champiñones rellenos, which literally translate as "stuffed button mushrooms" (from the verb rellenar – "to stuff"; "to fill"). Champiñones are stuffed with a mixture of jamón and ajo (garlic), dressed with aceite de olive (olive oil), and then cooked on the parilla (grill) to perfection.
🌭 Chorizo a la sidra
Sausage makes a great snack, and Spanish sausage known by the name of chorizo is especially good when slowly simmered in sidra (cider). However, you are not likely to come across this rich, flavorful tapa everywhere around Spain, as it is an Asturian specialty.
🍖 Croquetas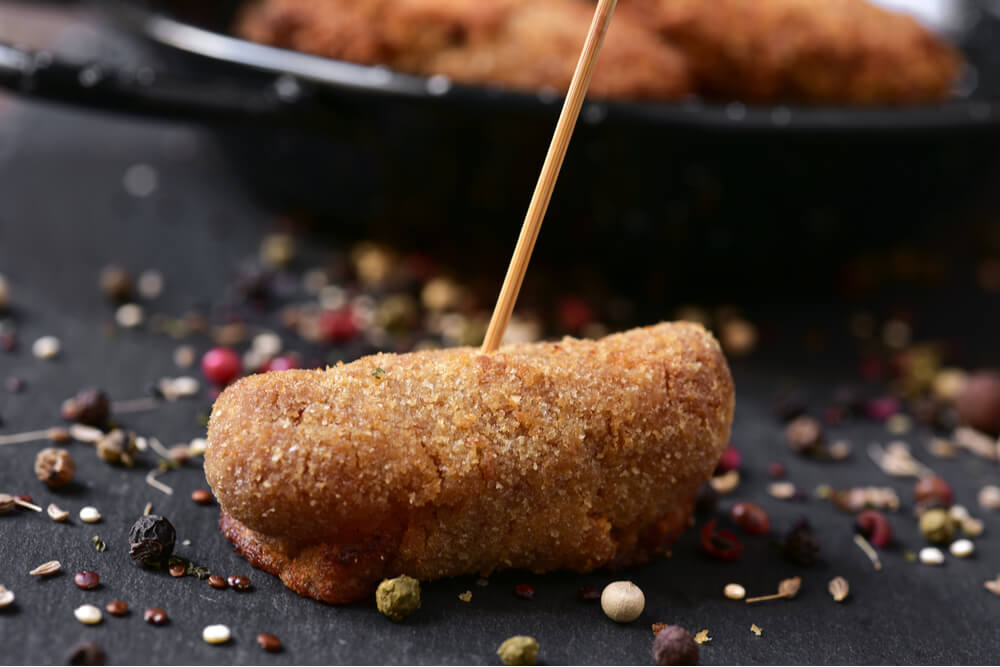 Spanish croquettes are a very popular tapa, and they are cooked with dozens of different ingredients, depending on what's there in the cook's fridge. In other words, croquetas are a nice way to turn yesterday's leftovers into an enjoyable fried snack with creamy béchamel.
🥓 Dátiles con bacon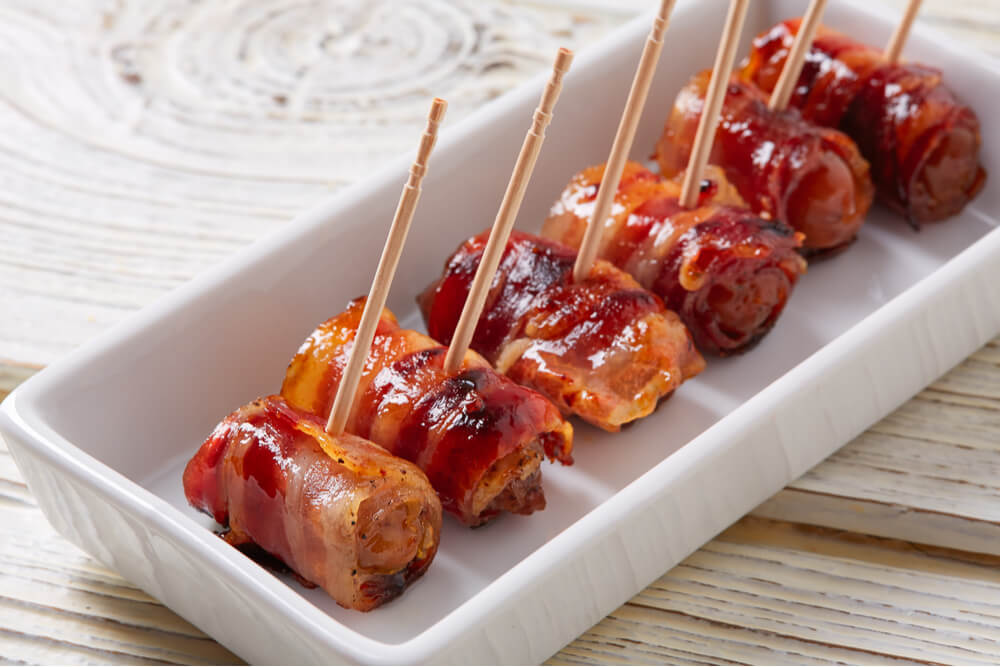 Some tapas surprise you with a combination of incompatible flavors that work surprisingly well together because of the controversy they shock your taste buds with. This is the case of dátiles con bacon (or beicon – a phonetic representation of the English word "bacon"). Bacon-wrapped dátiles (dates) are salty and crunchy on the outside and sweet and soft on the inside. Cooked on a parilla, they are a perfect bite for chilly autumn weather.
🌭 Morcilla de Burgos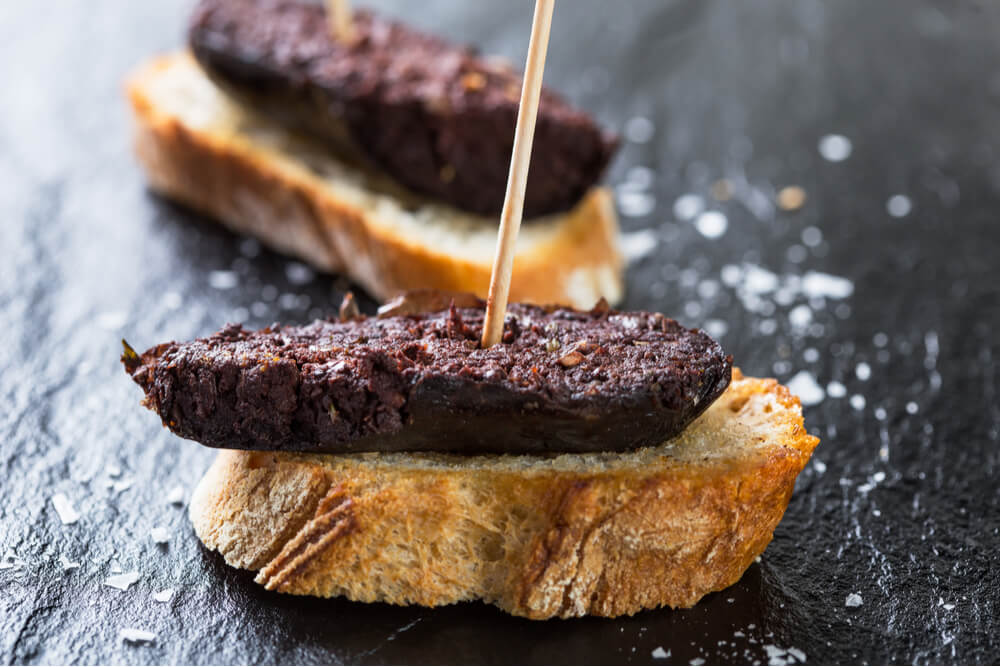 Black pudding is a peculiar dish, and you may not be a fan of it, which is quite understandable. But if you can stomach the idea of trying the Spanish variation, try morcilla de Burgos (black pudding from Burgos). Served with a bread slice, this rich sausage is a savory tapa you are very likely to enjoy.
🍠 Patatas revolconas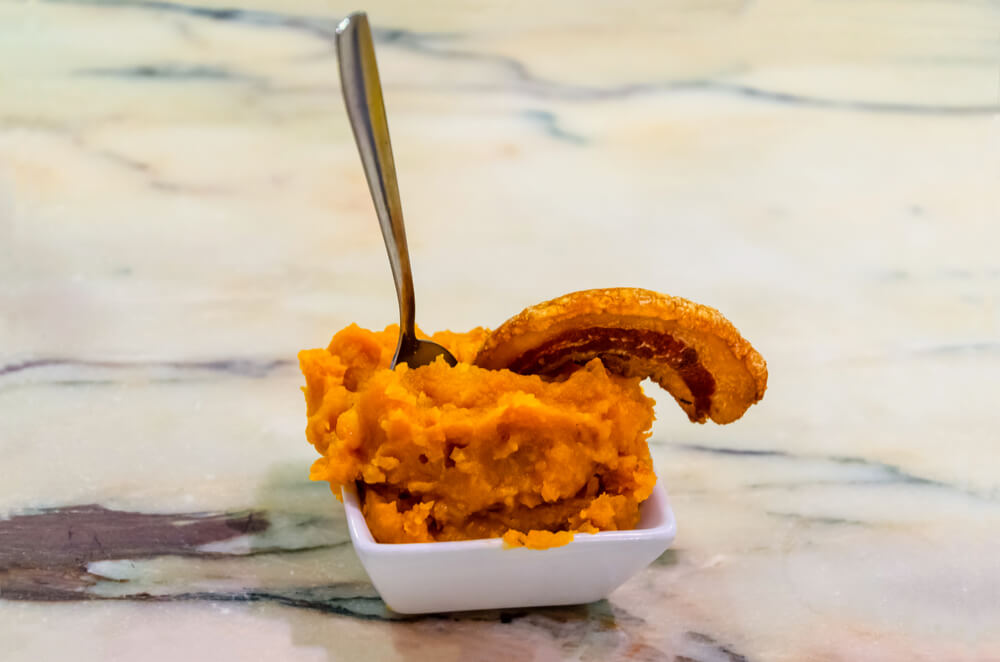 This hot tapa is simple mashed potatoes cooked Spanish-style. Patatas are mashed and mixed with paprika for a pretty shade of color and a smoky shade of flavor. Patatas revolconas are sometimes mixed with jamón or torreznos (fried bits of pork rind). It makes a tasty side dish, but works very well on its own, too!
🍢 Pincho moruno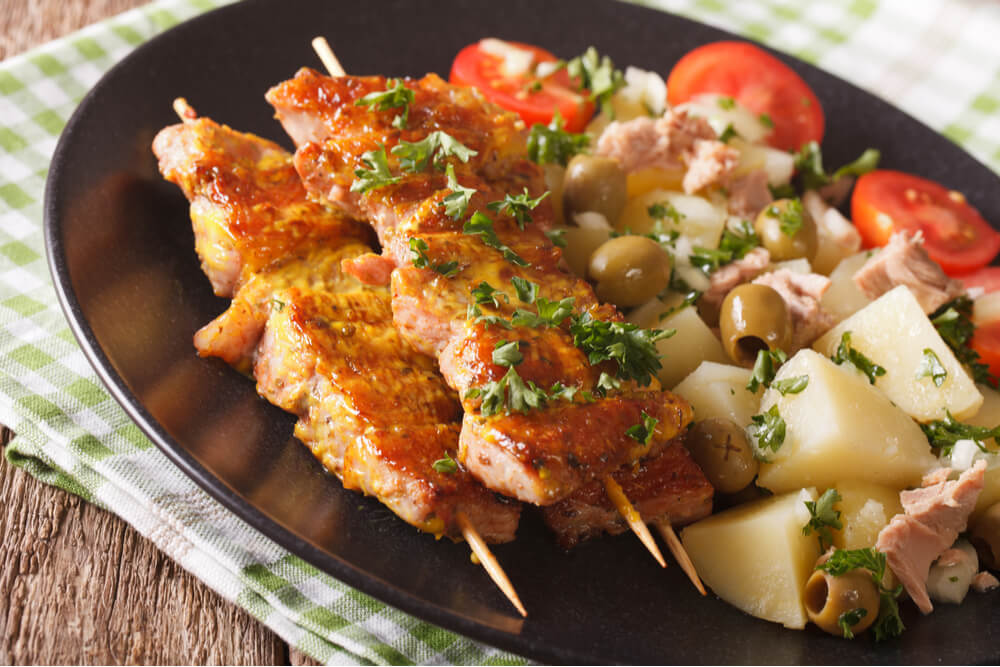 Pincho being the Spanish for "poke" and also "bite", it is hard to tell what the name of this pork skewer tapa literally means. However, one thing is certain: moruno has been derived from the Spanish word for "Moor," and the mix of spices used to season the pork has come from Moorish, or Arab, cuisine. The spices are not fiery hot; they are pleasantly mild and flavorful, complementary to the sweet flavor of pork. Though it is not a cold-weather drink of choice, pincho moruno pairs up nicely with Spanish beer.
Which tapa made your mouth water? If you have no immediate answer, take the vocabulary quiz and see if you will remember any of the tapas when you finish it!
Why not play a Spanish word game?
Start now and test your vocabulary!
START QUIZ